Using keyword research on 237,808 Google reviews, as well as the government website for official food ratings, Casinos En Ligne has gathered enough data to determine what fans perceive to be the filthiest stadiums in the Premier League.
Searching for negative terms such as dirty, poor, 'needs cleaning', disgusting, vile, unhygienic, filthy and so on, the resulting data shines a damning light on Nottingham Forest's City Ground.
After a 23-year hiatus from the top flight the Tricky Reds returned to the Premier League this season, but it would appear their stadium is in desperate need of an overhaul having last undergone a major redevelopment over 30 years ago.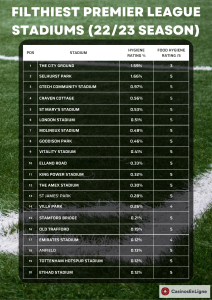 Top 10 Filthiest Stadiums in the Premier League
The City Ground –

Forest's ground was found to have 20 reviews featuring negative words out of 1,007 on Google, while also holding the worst food rating of any of the 20 teams in the division. There are however plans for a multi-million pound facelift which is due to begin imminently.

Selhurst Park – Crystal Palace's South London home actually has the highest bad word review percentage with 1.66% of their 1,200 reviews featuring a complaint, although they were saved by their impeccable food rating of five.
Gtech Community Stadium – You would expect the newest stadium in the league to rank among the cleanest, but Brentford's home has been met with 13 unsavoury reviews out of a total 1,345.
Craven Cottage – Fulham's picturesque riverside stadium has been undergoing refurbishment since 2019, which will increase its capacity by over 10,000. With the Cottagers home now well over 120 years old, owner Shahid Khan looks to be tackling the 0.56% of bad word reviews which complain of tired looking stands.
St Mary's Stadium – Southampton's south coast abode has just over 4,700 reviews, with 0.53% complaining of long queues and outdated facilities. However, a recently announced £2.5m investment plan will see an overhaul of kiosks and customer concourses, as well as improved technology within the stadium.
London Stadium

– West Ham moved into the former Olympic stadium back in 2016 making it one of the newest grounds on this list, but out of 12,538

reviews, 64 aligned with our keyword research which ranks it second for actual figures.
Molineux Stadium – Wolves have a nine-stage redevelopment plan in the works which could increase capacity close to 50,000. The most-recent renovation back in the early 1990's was revolutionary for its time, but 0.46% of the 5,994 reviews complained of uncomfortable seating and unsanitary toilets.
Goodison Park – Opened in 1892, Everton's stadium is among the top five oldest in the league and 0.46% of the 5,637 reviews saw fans leaving unhappy. However, the club will move to a brand-new £500m, 52,000 capacity home at Bramley-Moore Dock next year.
Vitality Stadium – The league's smallest ground is home to Bournemouth, who actually have the lowest number of bad word reviews on this list. However, nine write-ups out of just over 2,000 complained of no drinks for away fans, blocked toilets and cramped seating.
Elland Road – Leeds' homestead is known for its fervent atmosphere, and it ranks slap-bang in the middle of league in terms of reviews with 0.33% of the 8,143 ratings featuring negative words.
Manchester City's Etihad Stadium is the Cleanest in the Premier League
According to our date, Stamford Bridge ranks as the dirtiest among the Premier League's so called 'big six', although Chelsea have long been after a new home, or a significant overhaul of their West London quarters which fans have labelled outdated and 'leaky' after match-goers were drenched by overfilled gutters.
Elsewhere, champions Manchester City garnered the least amount of bad reviews with just 25 of the 21,631 left on Google featuring our collection of negative words.
Top 5 Cleanest Stadiums in the Premier League
Etihad Stadium –

The Citizens are constantly harassed by other sides for their lack of atmosphere despite winning four of the last five titles. However, City's stadium is known to be one of the more pleasurable matchday experiences with decent food options and short queues.

Tottenham Hotspur Stadium

– Unlike Brentford's brand-new stadium, the Tottneham's newly-opened home is among the finest stadia in the world and just 19 reviews out of over 16,000 were flagged up in our research. 

Emirates Stadium

– Tottenham fans will be pleased to hear they have the upper hand on neighbours Arsenal, who rank just behind them. The Gunners' home is approaching its 20th anniversary, but the luxury feel sees just 0.12% of the 26,222 reviews feature a negative word.

Anfield

– Liverpool's ground is steeped in history and is known to be one of the best matchday experiences in the league. The club have moved to increase its size in recent years, with the 7,000 seat expansion set to be completed by the end of next season. 

Old Trafford

– Despite numerous public complaints of tired looking stands, pieces of the stadium falling off and a general lack of maintenance, Manchester United's home sneaks into the top five. With 41,805 reviews, 79 of those featured negative phrasing, so the overall percentage is somewhat flattering, but with imminent new ownership set to takeover, a stadium overhaul could be among their first priorities.
Liam Solomon, Marketing Manager at Casinos En Ligne commented on the data, saying: "Maybe Nottingham Forest should focus on improving The City Ground rather than purchasing an entirely new squad every time the transfer window rolls around!
"The stadium perched riverside on the banks for the Trent has the potential to be one of the more pleasurable trips for Premier League fans, and for a club brimming with footballing heritage, an overhaul would befit their prestigious history.
"It is no surprise to see Manchester City rank as the cleanest given their endless resource of money, while Tottenham's shiny new state-of-the-art super-stadia is among Europe's most well reviewed football grounds."
---
Methodology
Hygiene rating %: The number of reviews for each stadium featuring the words, dirty, poor, 'needs cleaning', disgusting, vile, unhygienic, filthy & gross. Divided by the total number of reviews for each stadium – taken from Google Reviews. E.g. 1% = 1% of reviews included one of the aforementioned keywords
Food rating /5: UK Government Food Standards Agency has assessed each Premier League's food, providing a rating out of 5.